Through his musical path Jose Luis has collaborated with the early development of a fresh "latin sound" that peruvians have introduced to the world audience a couple three decades ago. We call this music Afro Peruvian Jazz. He has a wide repertory of original compositions and arrangements introducing several afroperuvian genres like Festejo, Zamacueca, Landó and Panalivio  that have been recorded and performed in live festivals at Peru and other countries. 
Collaborations in concerts and recordings with artists like Eva Ayllon and Susana Baca - as well as his family musical environment - are an important part of his afroperuvian musical culture. 
Jose Luis was member of the peruvian band Mestizo conducted by Félix Vilchez (1987 - 1992) pioneering band in the afroperuvian jazz history. 
His first album titled Chilcano published on United States (1996) and his International Latin Jazz Prizes promoting Festejo and Peruvian Cajon on 2000 and 2002 are part of his legacy.
Jose Luis had the privilege to play with several cajon peruvian masters of great talents and careers. Among them: Eusebio Sirio "Pititi", Chocolate Algendones, Mangüé Vásquez, Rony Campos, Caitro Soto, Leonardo "Gigio" Parodi, Juan Medrano "Cotito" and Maria Del Carmen Dongo.
Aditionally he has participated with Paco De Lucia and other musicians on "El viaje del cajón", a revealing spanish Tv program that exposes that flamenco cajon has its origins on peruvian cajon. The Flamenco cajon idea was borned on a Paco de Lucia's tour to Peru around 1979.
The audience appreciation and specialized reviews reflects the echo of Madueño's works wich can be known through the audios and videos that you'll find on this page.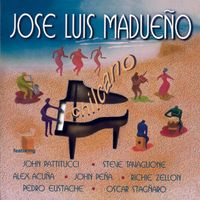 Chilcano
is
José Luis Madueño's
first soloist album where he performs mostly his own compositions. This recording was made in Florida and Los Angeles and first published in 1996 by the dissapeared label Songosaurus, dedicated to Latin Jazz.  Actually the album is owned by
Quinto pulso
, Jose Luis's recording company.
Madueño's compositions in this Album include Peruvian Rhythms as Landó, Festejo, Zamacueca, Valse and some other Latin-American styles as Bossanova, Baiao, Joropo Venezolano and Son Cubano.
The extraordinary musicians that performed in Chilcano become from different countries and they made a great contribution on this album. They are:
Alex Acuña
(drums & percussion, Perú),
John Patitucci
(acoustic bass, USA),
Steve Tavaglione
(saxophone, USA),
Ramón Satagnaro
(guitar, Perú),
Oscar Stagnaro
(electric bass, Perú),
Richie Zellon
(guitar, Perú),
Pedro Eustache
(flute, Venezuela),
John Peña
(electric bass, Puerto Rico) and
Barry Smith
(drums, USA). Madueño appears on the acoustic piano, synthesizers, cajón peruano and voice.
Chilcano
has been considered by the American jazz critic as a project that "expands the boundaries of Latin jazz" with seldom rhythms as Landó and Zamacueca that are unknown by listeners of Latin jazz. For the world audience the phrase
Latin jazz
considers mainly the music of Cuba, Puerto Rico and Brazil. South America has a wide variety of music that is just beginning to evolve and expand in areas as jazz, rock, pop and symphonic music. With productions like this, Perú appears in the spheres of Latin Jazz introducing to the world this New Music with exciting rhythms and melodies. 
*Latin Beat Magazine                    
"Madueño's music is like a breath of fresh air right out of the Andes". 
*Jam Magazine                   
"... an outstanding album." 
*O's Place Jazz Newsletter   
"All the tracks are strong. It's a winner". 
*JazzTimes               
"Chilcano is the perfect collection for listeners intrigued by popular Latin jazz." 
*Jazziz (Mark Holston)       
"Jose Luis Madueño's impeccable musicianship, entrancing melodic themes, and heady collaborations with a handpicked supporting cast of like-minded Latin jazz visionaries make Chilcano one extraordinary debut."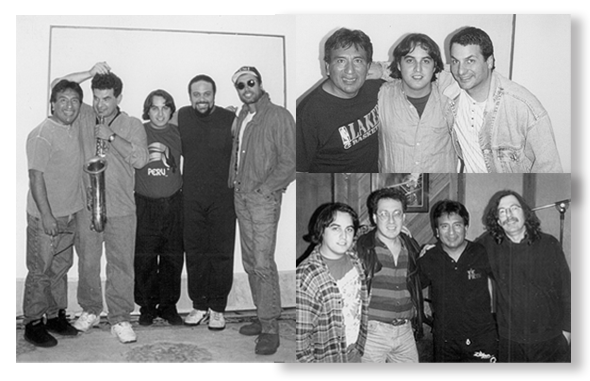 - Recording Sessions -
 
ALBUM: Listen previews of all tracks
---
0:00/5:14

0:00/8:15

0:00/5:02

0:00/7:41

0:00/1:00

0:00/5:48

0:00/6:24

0:00/6:11

0:00/3:32

0:00/2:46

0:00/5:52

0:00/6:44
International Latin Jazz Awards
---
Jose Luis Madueño's works have been awarded two consecutive times in Cuba with the second prize at International Prizes of Latin Jazz (2000 and 2002). In both cases Madueño explore a fresh view for latin jazz through his compositions based on Festejo, an afroperuvian traditional style. 

Please check the details, press notes and listen to the compositions by clicking any of the following pics.